Any Presentations
Our new website DesignToMail.com will pilot you from start to finish in building the perfect direct mail campaign.
Create postcards, newsletters, flyers, brochures, business cards, emails and more!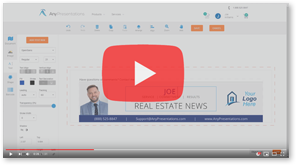 Products for Real Estate Professionals.
Email Real Estate Newsletter: Keep in touch with clients through cost-effective, personalized email real estate newsletters that are automatically sent every month.
Print Real Estate Newsletter: A two or four page real estate newsletter that can be printed through your office, local printer, or Any Presentation's print services.
Print Services: Let us Print, Fold, Tab, and Mail your newsletter at competitive prices.